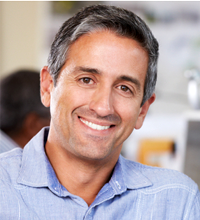 "I researched many alternatives to help fix my deteriorating eyes prior to Eagle Eye 911™. I learned that there's a bunch of eye-specific vitamins available on the market.
I gave three different brands a try, as they all had different formulations that claimed they would help fix my tired eyes and poor vision. Sadly I experienced little to no improvement from any of these products.
But I'm happy to say that I found my winning formula with Eagle Eye 911™. Your team seems to have nailed it with the right combination of absorbable quantities of lutein, bilberry extract, grape seed extract, Vitamin A, taurine and zinc.
I'm seeing better both day and night without straining. My eyes are not drying out anymore, they're no longer irritated all the time and I've cut the amount of time I'm wearing glasses in half. Count me as a happy customer."
Phillip M.
Wilton, CT